About JACP (Japan Alps Cycling Project)
Did you know that Nagano Prefecture covers an expanse of land that includes the Northern Alps, the Central Alps, and the Southern Alps? The fourth largest prefecture in Japan, Nagano is a mountainous region boasting impressive highland areas spread out over 13,100 square kilometers (about 5,058 square miles). Naturally beautiful, Nagano is internationally known for its scenic outdoors, rich history, and winter sports.
Broadly speaking, the Japan Alps Cycling Project (JACP) was born out of the desire to convey the charms of Nagano Prefecture to as many people as possible. We welcome visitors to enjoy the outdoors and ride their bike in the refreshingly crisp air, amidst vivid shades of nature – there's no better place to awaken your senses than in Nagano!
Currently, the JACP is engaged in a wide variety of efforts advocating cycle tourism, road maintenance, cyclist safety, route mapping, and sustainability. In short, the Project promotes cycling as a means of active exploration around Nagano. We're particularly invested in the "Naga-ichi" project, a round-trip route for cyclists to experience the best of Nagano.
Expedition Nagano. We chose these keywords to reflect the mission of the Japan Alps Cycling Project, which is to build your own adventure through Nagano. As youth, some of our first "adventures" exploring the local neighborhood were aided by a bicycle. With time, drivers licenses and motor vehicles, our explorations may have expanded but for many, riding a self-powered, pedal-driven vehicle has become a distant memory.
Whether you last rode a bike yesterday or years ago, we invite you to get back on the saddle and embark on your unique expedition through the vast expanse of our beautiful lands in Nagano.
Greetings from Raita Suzuki (JACP, Chief Representative)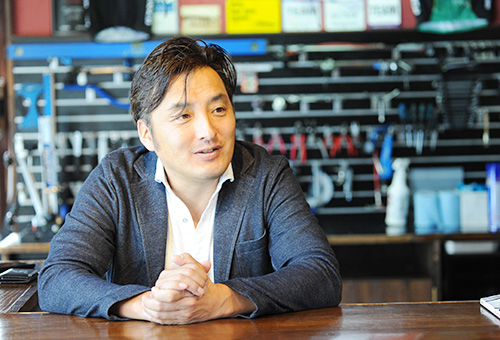 Bringing out the potential of Nagano – by bike
When I was a junior high student, I rode about 200KM from my hometown in Okazaki, Aichi Prefecture to Matsumoto in Nagano Prefecture. I distinctly remember sprinting around the Utsukushigahara highlands area – possibly out of breath, but certainly full of life. This was my first cycling experience in Nagano.
With time, I began to cycle seriously and eventually transitioned from road bikes to mountain bikes. Beyond the paved paths, I became intimately familiar with each dip, climb, and peak of Nagano's mountain trails. I learned about the rugged beauty of the prefecture and soon, Nagano became more than just a training grounds. At the age of 20, I moved to Matsumoto and have never looked back. Even to this day, Nagano remains an area full of potential waiting to be unlocked.
After 13 years of pro-cycling, I retired from professional competition and turned my attention to spreading the joy of cycling. In 2009, I produced the first edition of the Alps Azumino Century Ride (AACR), an immensely popular, non-competitive cycling event highlighting the Northern Alps and rural countryside of Nagano. I'm proud of the event and its course, which I believe is unmatched in Japan for its breathtaking scenery in the height of spring. Cyclists from all over the world have taken part in the AACR and I look forward to welcoming more international cyclists at the start line in the near future.
Boasting fresh, crisp air and magnificent displays of nature, cycling in Nagano is an unparalleled experience in Japan. Stretching more than 200 kilometers from its northernmost point to the southernmost edges, the land here is never flat and there is no escaping elevation gain! From the snow-capped peaks of a frosty winter morning to the reflection of jagged mountain ridges in the rice fields during the spring, the Japan Alps offer a wide range of photo-worthy scenes throughout the year.
Few things can compare to the freedom of cycling outdoors. There's no better way to experience the best of Nagano than getting on a bike and riding the roads! Why not experience Japan like never before and feel rejuvenated by the land, the people, and the culture that make Nagano so distinct?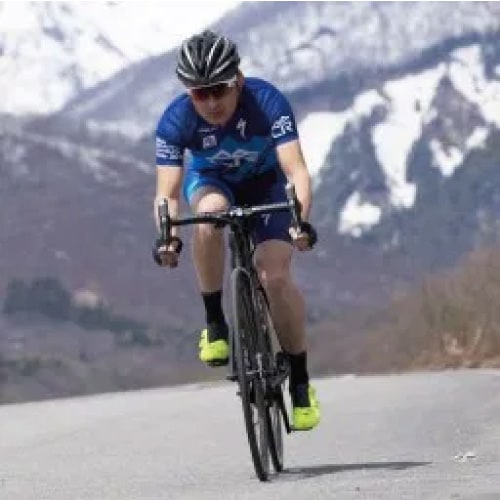 Profile
About Raita Suzuki
Founder and manager of Bike Ranch in Matsumoto City, Raita is a well-known figure in the cycling world. During the 2000 Sydney Olympics, he represented Japan as a cyclist (cross country/mountain bike) and currently, utilizes his experiences in coaching national athletes for the 2020 Tokyo Olympics. Since retiring from professional cycling, he has actively promoted Nagano Prefecture as a cycling destination to domestic and international audiences. Raita is an ambassador for several cycling events and produces the Alps Azumino Century Ride, a popular, non-competitive bike event around the Japan Alps.
Greetings from Ryohei Oguchi (JACP Deputy Representative)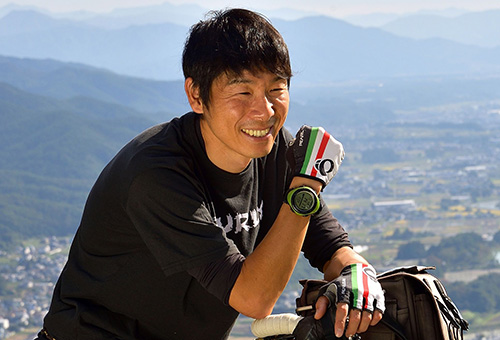 I've traveled the world but I always come back to Nagano
I was born and raised in Okaya, a small city located southeast of Matsumoto and adjacent to Nagano's largest lake – Lake Suwa. At the age of eight, my brother and I hopped on our bikes and rode the entire perimeter of the lake (about 16km). Back then, the journey took a full day but with paved roads now, it's an easy one-hour loop. I can still recall how different the lake seemed that day – the song of the birds melded into a medley and the surrounding flora appeared more vivid. It was around that time when I realised the unique appeal of the bicycle and cycling explorations.
Over time, I began wondering what it might be like to experience the world on a bike. So I embarked on a journey of eight and a half years cycling through 157 countries and regions around the globe. Riding my bike through Africa was incredibly tough, but I accomplished a thorough exploration of the Patagonia area between Chile and Argentina. I'll also never forget the warm hospitality I experienced during my time in Iran and Venezuela. After almost nine years on the road, I returned home to Nagano in October 2016.
Everywhere I traveled around the world, it seemed that everybody knew of Nagano. Perhaps rightly so, as my home prefecture had just hosted the 1999 Winter Olympics. In my youth, I couldn't wait to get out of Nagano and see the world. Now, as I am surrounded by mountain ranges towering 3,000 meters or more amidst unrelenting natural terrains that change dramatically with each passing season, I realise that there is no place more blessed than Nagano.
Armed with years of cycling experience and local knowledge, I began leading guided cycling tours. On bikes, I navigate visitors around popular attractions and take the back ways to famous local shops. Taking care to intertwine the allure of exploring by bike and interacting with the community, I have helped to gradually but deliberately pave the way for cycle tourism in Nagano. Grassroots efforts continue in the form of training for cycling guides and support in setting up bike racks around the region. The increasing popularity and ubiquity of e-bikes further expands the potential for riders of all levels to enjoy cycling and create their own Nagano expedition.
Most of all, my biggest hope is for visitors to fully savor his or her cycling experience in Nagano. The Japan Alps stretch deep into the prefecture, and depending on the route, permit cyclists to ride with minimal traffic light stops. I firmly believe that your time exploring the Japan Alps will be an unforgettable experience, one just as comparable to the European Alps, or the South American Andes. There's plenty to see and even more to do in Nagano – see you soon.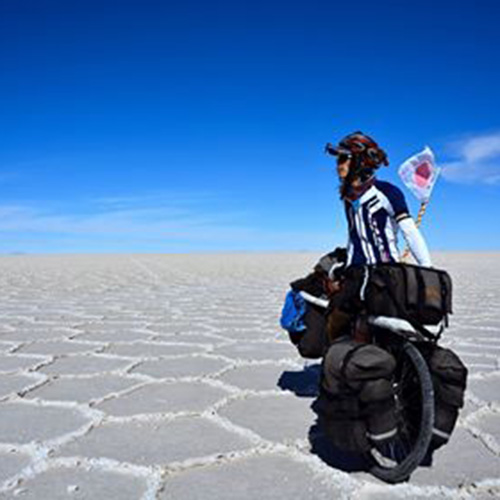 Profile
About Ryohei Oguchi
Born and raised in Okaya City, Ryohei is a Nagano native. The national record-holder for traveling the world by bike, he spent 8.5 years cycling 155,502km through 157 countries. Since his return to Japan, Ryohei has authored a book about his experiences cycling the world and regularly speaks at cycling-related events, lectures, and media opportunities. He dreams of one day cycling in Antarctica and on the moon.